カタックWS@バンガロール
2010年 04月 28日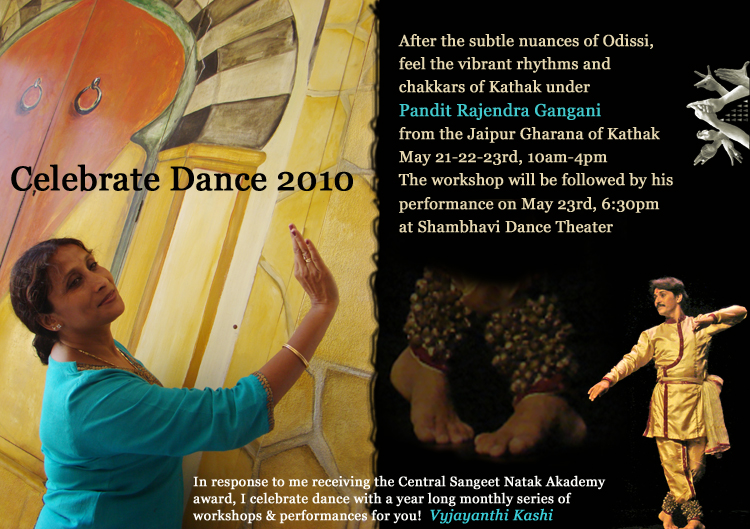 バンガロールのクチプディアーティスト、ヴァイジャヤンティ・カーシーさんからのカタックWSのお知らせをいただきましたので、以下、メールを貼り付けます
DANCING TO ETERNAL BLISS
Dear Artists,
After a memorable experience with the Odissi workshop and performance
by Smt. Sujata Mohapatra , CELBRATE DANCE series invites you to a professional workshop in Kathak by one of India's most
respected kathak exponents PANDIT RAJENDRA GANGANI concluding with a grand performance by the celebrated dancer.
A brief intro to what you learn at the workshop:
1 Surdas pad- Surdas is one of the most celebrated poets of the bhakti era and since he was a Krishna bhakt his poetry forms
an integral part of the kathak repertoire. The students shall be taught 'Nachat sudhang shri nad nand'; a pad that glorifies Krishna's dance.
2 Thumri- Thumri is a north Indian classical style of singing which can be explained as the amorous songs of Radha and Krishna.
In the thumri that we plan to teach, radha entreats Krishna to let go of her hand as she says 'Kahe ko mori baiyan gaho ri'
3 Technique or nritta- The nritta aspect of kathak comprises of intricate rhythmic patterns in the form of tihais (Footwork) and todas
( movements, footwork and pirrouttes woven together) and parans ( Patterns borrowed from the pakhawaj or mridanga)
about PANDIT RAJENDRA GANGANI
The disciple of Pt. Kundanlal Gangani, Rajendra Gangani started training in the art of Kathak dance at the early age of four.
The renowned Jaipur 'Gharana' saw the emergence of an outstanding performer and crusader of the art in the talented scion
of a family of hereditary dancers serving the art of Kathak for centuries together.
Pt. Rajendra stands out for his style; making use of his excellent blend of manly grace and delicacy, he depicts the devotional
aspects that characterize the Jaipur gharana. An accomplished musician, composer of tunes, he also has a rare mastery over the
tabla, harmonium, pakhawaj, etc.
Among the numerous awards and accolades he has won,
are the 'Sangeet Raj', 'Shastriya Natya Shiromani', and the prestigious 'Sangeet Natya Akademy Award'
A golden opportunity for kathak students and open to all dancers
Venue: The artistic ambience of
Shambhavi Dance theatre
200/7 Sun City Road
Kengeri Sattelite town
BANGALORE 560 060
Date: 21, 22 and 23rd MAY 2010. Time: 10.00am to 4.00pm
Added attraction: Performance on 22nd evening at 6.30pm by Pandit Rajendra Gangani
Shambhavi Dance Theatre provides an atmosphere to let you immerse yourself in dance giving you the feel of the Guru Shishya Parampara.
Accommodation available on request.
For further queries: Ph: 95355 93909, 98866 87559, 99452 26337
Email: danceindia @gmail.com, futureofdance@hotmail.com
For details visit www.schoolofkuchipudi.com
Do join us and celebrate dance!!!!Do spread the message around...
Culturally Yours,
VYJAYANTHI KASHI
www.vyjayanthikashi.com