ODISSIワークショップ
2010年 04月 03日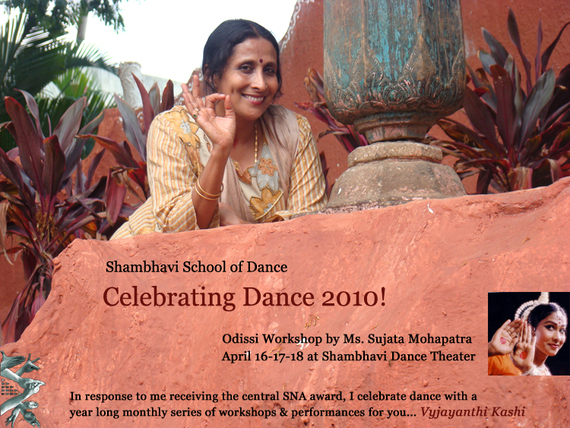 バンガロールのクチプディアーティスト、ヴァイジェンティ カーシーさん主催のワークショップシリーズのお知らせが来ました
4月はODISSIのスジャータ モハパトラさんによるアシュタパティ
私もインドにいたら参加しにバンガロールに行くのだけれどもねぇ
ご興味の方は以下を参照のこと
Dear Artists,
The year 2010 has started off with pleasant surprises for me. More performances, dance
activities and the prestigious Sangeeth Natak Akademy Award. While the award gives me immense pleasure,
it also makes me feel more responsible and fills me with a sense
of serving the field much more than before. With this humble aspiration, and knowing
that learning, experiencing and performing are the aspirations of any dancer, we are
starting our year long monthly series of workshop and performance at the
Shambhavi Dance Theatre.
We begin our activities in the month of April 2010, dedicating the month to late Guru Kelucharan Mohapatra who
breathed his last on 7th April.
Who else can be a better choice than Mrs.Sujatha Mohapathra , who has
imbibed the best from her guru & father in law.
We invite you to this 3 day Odissi workshop in "Asthapadis" to learn the nuance of
abhinaya on the 16th, 17th and 18th of April 2010.
This will conclude with a lecture and performance by Smt. Sujata Mohapatra
Date: 16th, 17th and 18th of April 2010.,Time: 10.30am to 4.00pm,
Place: Shambhavi Dance Theatre,No.200/7, Sun City Road,Kengeri Satellite Town,Bangalore – 560 060.
www.schoolofkuchipudi.com
Shambhavi Dance Theatre provides an atmosphere to let you immerse yourself in dance
giving you the feel of the Guru Shishya Parampara.
Accommodation available on request.
For further queries: Ph: 95355 93909, 98866 87559, 99452 26337
Email:danceindia @gmail.com, futureofdance@hotmail.com
For details visit www.schoolofkuchipudi.com
Do join us and celebrate dance!!!!Do Spread the message around...
Culturally Yours,
VYJAYANTHI KASHI
www.vyjayanthikashi.com
Ms. Sujata Mohapatra…….
One of the leading soloists of the country, Sujata is an accomplished and versatile Odissi artiste from Bhubaneshwar, Orissa.
Intensively trained and groomed by her father-in-law and guru legendary Padma Vibhushan Guru Kelucharan Mohapatra, for more than eighteen years, she is the bearer of his priceless cultural heritage. Sujata has also undergone training at the Odissi Research
Center in Bhubaneshwar and is currently guided and supported by her husband Ratikant Mohapatra.
Her dance is particularly noteworthy for her strict adherence to her guru's style and vision. Widely traveled over the world as a soloist and a leading member of the Srjan Dance Troupe, she has also been a leading dancer in most of her guru's great choreographies. Apart from her concert tours Sujata is also a much sought after teacher and also often
conducts workshops in the major centers of Odissi teaching throughout India and abroad.