ダンスフェア Dance Jathre
2009年 11月 15日
バンガロールのクチプディアーティスト
Vyjayanthi Kashiさんからインターナショナルダンスフェアについてのインフォをお送りいただきましたので以下に掲載いたします
ご興味の方はどうぞ。。。といってもこれチェンナイではディッセンバ―シーズンでメインの人が出るあたりの日程なのですよね~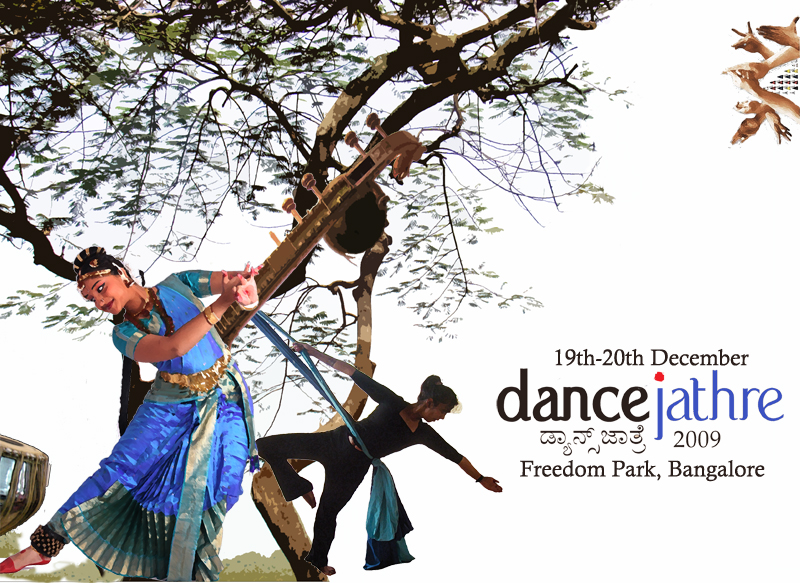 ちなみにVijayanthi Kashiさんはこのような方
International Dance Fair「Dance Jathre」
2009年12月19日、20日
@Freedom Park,Banagalore、S-INDIA
dear Artists,
dancejathre….India's first ever internatiomnal dance fair was initiated last year by Vyjayanthi Kashi, artistic director of Shambhavi School of Dance, Bangalore.
Dancejathre is an artistic hub for dance professionals and for the art audience. The dance fair is a festival, marketplace, discussion platform, network zone and much more which is aimed at broadening the horizons of dance to bridge the gap between the arts and the common man.
At the dancejatre, companies and artists get together to present their work live on stage. Choreographers, dancers, presenters and cultural institutions worldwide network and co-operate on a lively festival platform involving the public to preserve our traditions and help transcend the eternal art forms.
With dance competitors and companies from all over, dance teachers, dancers, parents and members of the public, dancejathre 2009 is your opportunity to show,
sell or purchase your latest dance products and promote your art business. The dancejathre also includes a program of lectures, demonstrations, discussions, workshops, interactive and open sessions.
When many sing and dance together at the same time, it is not just Sound or Dance it is Divinity…
Our vision is to make dancejatre a world fair of dance creating this divinity…..
Don't miss out!!!!!!!To book stalls, to present your work, to be a part of this dancejathre,
The event is scheduled on Saturday and Sunday, 19th and 20th December admits the greenery of Freedom Park in the heart of the city of BENGALURU.
Participants:
dance companies, dancers, choreographers, cultural institutions agencies , presenters, directors of theatres and festivals, technicians, costume designers, light designers, set designers, dance schools, colleges, dance academies, dance educators, dance scholars, journalists, dance critics and encouraging audience.
Expected Visitors: more than 3000 visitors from
Expected Exhibitors: more than 30 exhibitors
Booth sizes and Rentals for both days:
Regular: 8ft by 8ft
(Subsidized rental for artists, and art organizations, etc.): Rs.5, 000/-
Facilities: shamiyana stalls, providing 1 table, 2 chairs and carpet. 1 spotlight
Artistic stalls: 10ft by 10ft
(Subsidized rental for artists, and art organizations, etc.): Rs.10,000/-
Facilities: Artistic Stalls: octonorm stalls, 3 sides covered with policam panels, providing 1 table, 2 chairs, 3 spotlights, 1 plug point.
Rental for individualistic stalls: 20ft by 20ft : Rs.25, 000/-
Facilities: Artistic Stalls: octonorm stalls, 3 sides covered with policam panels, providing 2 tables, 4 chairs, 4 spotlights, 1 plug point.
The individual decor and style of each booth characterizes the sophisticated flair of the dancejathre and attracts hundreds of visitors.
To promote young dancers who have decided to take dance as a profession we are introducing the dancer's hall which will be shared by many young dancers Rental
Rs.2, 500/- Facilities: 1 table, 1 chair
If you are interested to register as visitor, competitor, participant, presenter or in renting a stall as part of dancejathre 2009 you can do so now!
If you wish you can also add your proposal for a performance. Please remember to send us a CD/ DVD of your work along with your cv to
Artistic Director
Shambhavi School of Dance
601, 9th C Main, 6th Cross,
R.P.C. Layout, Vijayanagar 2nd Stage,
Bangalore – 560 040
Ph: 2335 7457, 23148164, 094481 46110,
www.schoolofkuchipudi.com
dancejathre@gmail.com, futureofdance@hotmail.com
Let this year's festival program surprise and inspire you. Have a great time at the workshops performances, exhibitions, shopping and much more!
WELCOME TO dancejathre 2009!